Wamuyu Esther Nyaguthii Graduate, Bachelor of Purchasing and Supplies Management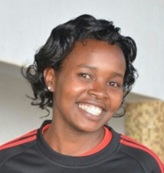 Studying at Dedan Kimathi University of technology was a great experience for me as the Institution is not just about bettering life through technology (as the motto states) but giving a chance to experience life in a completely different and amazing way. From the diversity which helps shape ones understanding of other cultures to the learning environment so conducive and the availability of learning resources coupled with high academic standards, DeKUT was the place to be in shaping a path to my dreams. I just don't have a degree to show from DeKUT but every activity and interaction helped me gain skills, experiences, empowerment and exposure hence molding my personality.
I thank the University for enriching my life.