Everlyne Kaberere Graduate, B. Sc Information Technology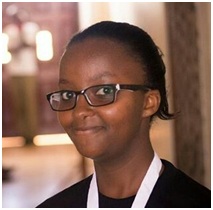 I am a proud graduate of DeKUT. This is because DeKUT has shaped me to a confident, intelligent and competitive woman in the industry as a Woman in Technology. I, inspired by a mentor through the University's Innovation hub (DeHUB), realized that many ladies were shying away from Tech and had the mentality that it was a man's world. An opportunity then arose; Google Women Tech Makers formed in 2012. This coincided with the ready me making me the first lead of the community. This participation by Google was to enable provision of resources, visibility and a community for the Women in Technology in the University. DeKUT has played a big role in making sure the community has all the resources it needs when holding its events and forums towards the goal of empowering more women into the tech community. As a result, there has been a rise of the number of ladies actively involved in research, innovation and technopreneurship. Out here in the industry, I now stand out among the men in technology as an enabled woman in the field.
I am proud to be associated with DeKUT. Long live DeKUT!