Dr. Duncan Ndegwa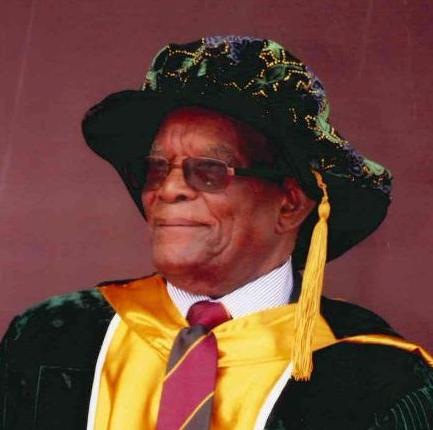 CITATION AWARD OF HONORARY DOCTORATE DEGREE IN BUSINESS ADMINISTRATION (honoris causa) TO MR. DUNCAN NDERITU NDEGWA, MA (HONS. UNIVERSITY OF ST. ANDREWS ),FCIB, DIP(MAKERERE COLLEGE), E.G.H.
On this 3rd Graduation Ceremony of Dedan Kimathi university of Technology, the senate of the university, under powers conferred on it by Article 20 (3) (j) of Dedan kimathi University of Technology Charter, and in compliance with the commission for University Education (CUE) standard and guidelines for honorary degrees, has determined that Mr. Duncan Ndegwa be awarded the Doctor of Business Administration (honoris causa) degree. It is a great honour to our University and to the Current and future graduands that Mr. Ndegwa has accepted this Award, thereby becoming the second person to receive a honorary degree from Dedan kimathi university of Technology.
The Beginning of a journey.
Mr. Duncan Nderitu Ndegwa was born in Nyeri in 1925. Like any other young man during his time, he went through the formal education stages at a time when the tensions between traditional ethnic mores, Christianity and Western education threatened to tear his society apart. Amidst all challenges facing the young people at his time, Mr. Ndegwa was able to learn the customs of his people without contempt or apology.
Mr. Ndegwa sat and passed his common Entrance Examination at Ngangarithi Primary school and was able to join Kagumo High School in 1941. He eventually qualified for admission at Alliance Boys High School in 1944. He was an outstanding student in academic, leadership and sports.
He was appointed the School Captain in 1947 and was a member of the 1st Hockey XI team. As soon as he was through with the studies at Alliance High school, he proceeded to Makerere College in Uganda where he earned a triple " A" Diploma in Education in 1951 and went back to Kagumo High School as a mathematics Teacher.
In 1952, Mr. Ndegwa, on a Government merit scholarship, joined St. Andrews University in Scotland where he graduated with a Master of Arts (Hons) in economics and History in 1956 and returned to Kenya with a lot of experience as a result of his tours that he had had while pursuing his studies in UK.
In 1962, on the eve of independence, Mr. Ndegwa was a Deputy Permanent Secretary at the Treasury when he was asked to take on the position of Permanent Secretary in charge of Economic Planning Development. Before that, he had been appointed to serve as a Statistical Officer with the East African High Commission. In this role, Mr. Ndegwa toured many parts of Kenya, compiling data on the cost of living and seeing for himself the low levels of education, health care and housing. The knowledge acquired during this time in the field would serve Mr. Ndegwa well in 1963 when he was called upon to serve as Permanent Secretary in the Office of the Prime Minister and Secretary to the Cabinet.
A few months later when he took on the added responsibility of Head of the Civil Service, Mr. Ndegwa's interactions with provincial administrators were enriched by his own firsthand experience of various districts and he was able to map up the development needs of the administrators. In reviewing policy briefs for cabinet meetings, Mr. Ndegwa could identify strategies that would be valuable in particular regions and evaluate goals that would be achievable, in the very short space of time that the first independent government had, to attain racial equality and to secure improved livelihoods for the people of Kenya. Indeed, amongst Mr. Ndegwa's key contributions to Kenya was the rapid and smooth Africanization of The Civil Service and re-engineering it to serve the good common Kenyans.
In 1967, after three and a half years as President Jomo Kenyatta's advisor, Permanent Secretary, Secretary to the Cabinet and Head of the Civil Service, Mr. Ndegwa took up the challenge of transforming the country's monetary and fiscal systems from the East Africa Currency Board to the Central bank of Kenya (CBK). As a British colony then, Kenyans were used to the British pounds. He served four terms as the governor of CBK and retired in 1983. Throughout his tenure he ensured that the value of Kenya shilling was always tied to tangible goods and services in economic terms. In addition CBK issued regular bulletins that educated the public about monetary trends and targets. As a Governor of CBK he set up monetary systems that illustrated his firm belief that when people promote proper work ethics and incline to accountable governance, they are able to achieve their democratic choice in national development.
The production of Knowledge (Through Education)
In 1979, Mr.Ndegwa enriched the world of finance with the publication of special drawing rights: What are they? The book's value lies in its effortless ability to explain financial instruments and economic transactions, such as balance of payments, to a layman.
In 2006, the publication of Mr. Ndegwa's memoir walking in Kenyatta Struggles: My Story, marked another of his intellectual gifts to Kenya's posterity. A study of the customs of the 'Agikuyu' people, an examination of the logic of empire-building and the consequent moral failures of colonialism, this book adds to the knowledge of global freedom struggles and the meaning of Jomo Kenyatta in the context of African nationalism and nation- building.
In his retirement, Mr. Ndegwa has maintained a vigilant eye over our monetary system even when that vigilance has put his personal freedom at risk. In a press article dated February 3, 1992, Mr. Ndegwa explained the causes of the economic instability that the country was experiencing. He revealed that the government was dealing with budget of deficit through the printing of paper money rather than by containing public expenditure. In the face of such financial indiscipline, the international Monetary Fund (IMF) refused to release sh.1.7 billion earmarked for Kenya.
For these lessons on importance of "good money", the police promptly hauled Mr. Ndegwa in for interrogation. It was a season of fear. With the return of multi-party politics at the end of 1991, and an election set for the following year, 1992 opened with defections and counter-defections of gullible politicians. Mr. Ndegwa was clear that such a high-stakes political game with such unscrupulous behavior encouraged by financial profligacy would unleash what he termed "a host of evils, including unauthorized taxation, inflationary forces and an attack on the poor and unemployed".
Within a year of his warning, it was evident to all that Kenya had too much money chasing too few good. Salaries were stagnant and consumer prices rocketed. Mr. Ndegwa was being proved right –freedom of choice was being constrained by the weight of paper money. Once again, freedom-the freedom to run a depoliticized economy in which all people had equal opportunities and fair access –had to be fought for and protected.
The struggles to emancipate Kenya from the York of systems that are oppressive and prejudicial to the majority, are struggles that Mr. Ndegwa has witnessed, studied and engaged for many years. One can learn from his own life that in colonial Kenya, the pursuit of freedom was not going to be fulfilled without building networks with other colonized Africans and without education. Quite strategically, the course of freedom then was a much a matter of outright defiance and protest as it was one of calculated negotiation and appropriation of the valuable aspects of European culture.
The Hallmarks of Visionary.
Amongst Mr. Ndegwa's lasting contributions to Kenya is the 1970/71 Report on Public Service Structure and Remuneration. This report, in spite of recommendations not being adopted immediately or in full, has been a seminal document on human resource management and organizational structure.
His determination to emancipate indegineous Kenyans from decades of unfair practices and discrimination has not been limited to transforming the public sector. He has, with similar rigour and diplomacy, stayed the course of delivering opportunity and equality in the arena of sports –specifically, in the game of golf, which he transformed from a racist game to a truly national sport.
In the late 1960s he brought together a group of senior civil servants to form, Tubogo, the first African Golf Club. Forging a group was a strategic way of making inroads into clubs like Limuru, Sigona, Kiambu, Muthaiga and Royal Nairobi, which were the sole preserve of Europeans. In the same way that he had helped to bring an end of racial discrimination in the civil service, Mr. Ndegwa forged ways of changing the guard on the golf course. He brought to an end the preserve of the European prejudice without compromising the rules of the game or the etiquette between players. By then, he had established African club, off Jivanjee Street, as a place where Africans could socialize freely. Various leaders among them the Julius Nyerere, Kenneth Kaunda and Milton Obote, Mwai kibaki, Argwings Kodhek and James Gichuru, visited the club for deliberations ranging from politics to economic development.
As a patron of the Kenya Golf Union in independent Kenya, Mr. Ndegwa lent service to the game by helping clubs overcome various administrative hurdles including the protection of their land from encroachment and to securing lawful extensions on their land leases. He was inducted by the golf fraternity into the Hall of fame in 2006. He remains a member of the Commonwealth Golf Society and the Senior Golfers Society and regularly participates in their international tours.
Mr. Ndegwa has overseen many education projects. In 1971, he was in the first group of visionaries who mooted the idea of setting up an institute of science and technology that would be dedicated to the ideals of African liberation hero-Dedan Kimathi. Upon its inception, Mr. Ndegwa prove to be a valuable assistant to the then Finance Minister, Mwai Kibaki, who chaired the Appeals committee. Together they leveraged numerous local and international networks. Mr. Ndegwa prepared countless briefs and memoranda to donors impressing upon them the value of stemming the social problem of unemployment by entrenching tertiary education in a region that was teeming with young people. The institute needed land, physical infrastructure, staff, equipment and capital.
Above all, Mr. Ndegwa was part of the team that foresaw the need for the Kimathi Institute of Technology to be financially sustainable and was instrumental in obtaining an executive order from First President of the Republic of Kenya, Mzee Jomo Kenyatta, for the purchase of European farm, 600-acre farm with mature coffee which became the cornerstone of the Institute's steady growth, which now boasts of proud status of a fully-fledged university with a charter.
Enterprise and Risk.
This account of Mr. Ndegwa's contribution to making Kenya a stable economy, with a self –worthy, skilled and better educated human resource base would not be complete without a mention of his remarkable business acumen and his capacity for calculated risk.
As Chairman of Unga group limited, he sterred the company through the turbulent economic climate of the 1980s and 1990s. To date, he is an active director of several solid companies whose interests range from farming to hospitality, real estate, finance, insurance and logistics.
Mr. Ndegwa's stewardship of the Central Bank of Kenya earned him lasting respect in international financial institutions. He served in the interim Committee of the World Bank and was an Alternate Governor of the IMF. In this time, the IMF reviewed the International Economic Order culminating in the demonetization of the Gold Standard to the Special Drawing Rights (SDRs) basket of currencies. His involvement with the IMF leverage good standing for Kenya with the World Trade Organization; IMF actually held its first meeting in Africa at the newly opened Kenyatta International Conference Centre in 1973.
Mr. Ndegwa remains a valued member of the Bretton Woods Committee. It is a group of distinguished personalities who are drawn from all corners of the world and are dedicated to leveraging global support for, and strengthening the performance of, sound international finance institutions such as the African Development Bank and the World.
Beyond the growth of his own private enterprise and his contribution to global networks for the promotion of international economic cooperation, Mr.Ndegwa has always shown extraordinary talent for mobilizing community enterprise. Indeed his engagement in the old GEMA and land-buying companies such as Tetu Subukia company and Weruini Lands Ltd, as well as his leadership in the new Maina and Mwangi Trust provide ample evidence of Mr. Ndegwa's capacity to harness both economic and cultural investments. The establishment of the Maina and Mwangi Trust in 2010 anticipated the opportunities for cultural creativity in the counties that have been created by devolved government under the Constitution of Kenya 2010. The vision of the Trust is centered on the reinstituting memory, building heritage sites and reviving positive cultural values and wholesome identity. Through this trust, Mr. Ndegwa has instigated debates on the politics of culture, the culture of politics and man's unending pursuit of freedom. Indeed , the vision of this Trust has congruity with some of the strategic goals of Dedan Kimathi University of Technology , a place that will forever commemorate the face of liberation and the dream "one flag, one nation, one country" that the founding fathers and mothers of Kenya envisioned; a dream for which they sacrificed life, limb and property.
Final Proclamation.
The vision that Mr. Duncan Nderitu Ndegwa had for a sovereign monetary system is the same clear foresight that he had for an institution of higher learning that would contribute to transformation of livelihoods of thousands of Kenyans. We have learnt from Duncan Ndegwa, who is a selfless change agent, how to manage public resources and how to steer institutions with principles of good governance and accountability that can stand the test of time and enrich Kenya for posterity.
For his pioneering services to the people of Kenya, his visionary role in the production of knowledge on organizational structure, human resource management, colonial history and cultural memory ; for his outstanding community service and contribution to securing the livelihoods of thousands of young Kenyans; for his exceptional business skills, his expansion of the banking sector, his vigilance over fiscal policy and the growth of country's economy, Duncun Ndegwa has proved that he is, truly an incisive mind. He is a luminary, a mentor, an erudite scholar and a man worthy of the award of Honorary Doctorate degree in Business Administration of Dedan kimathi University of Technology.
It is therefore, with great pleasure, Mr. Chancellor Sir, that I present Duncan Nderitu Ndegwa, to receive the degree of Doctor of Business Administration (honoris causa).
Ladies and Gentlemen, Mr. Duncan Nderitu Ndegwa.