His Excellency Mwai Kibaki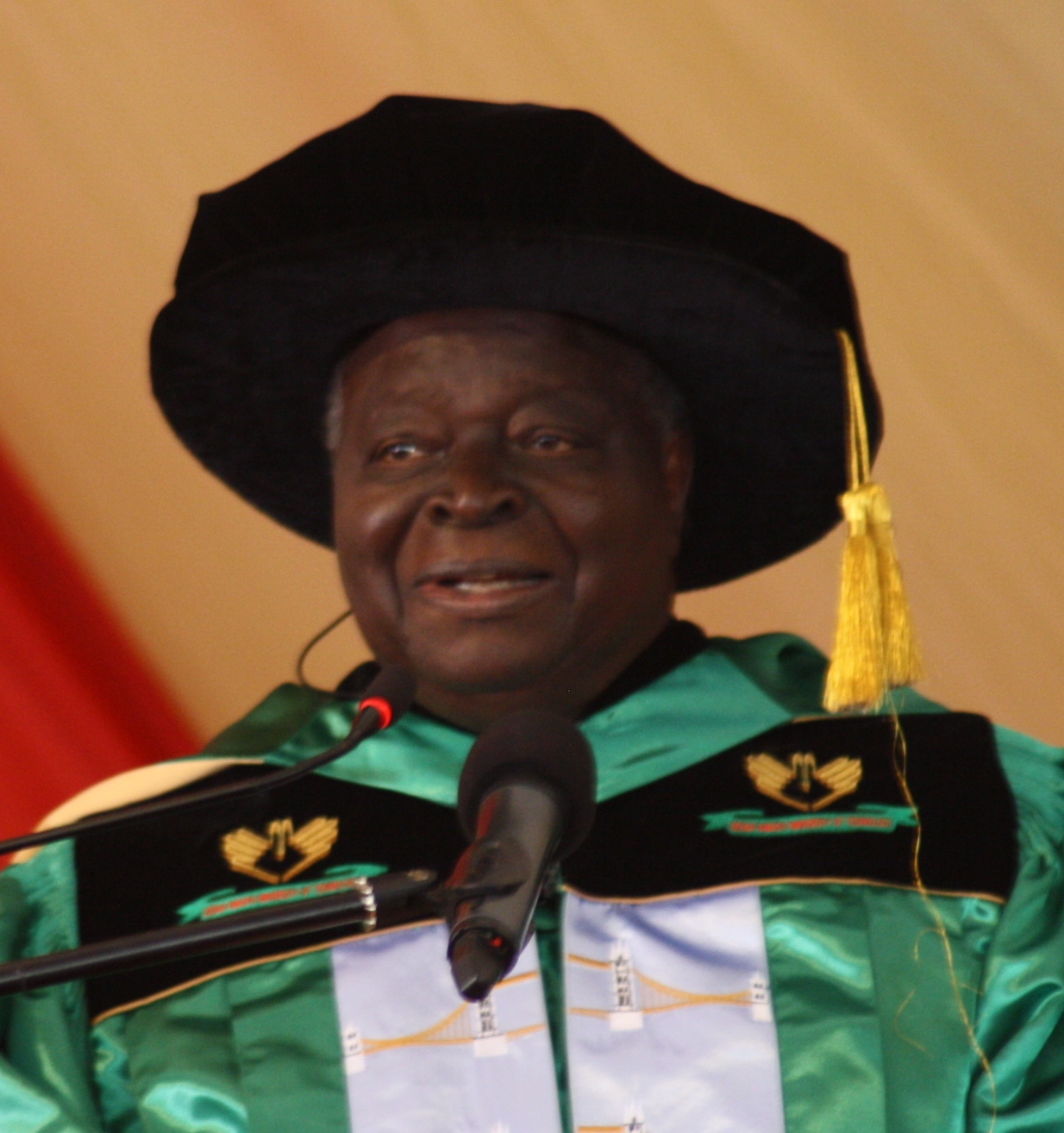 CITATION FOR AWARD OF HONORARY DOCTORATE DEGREE IN HUMANELETTERS (Litterarum humanorum doctor) (HONORIS CAUSA) TO HIS EXCELLENCY MWAIKIBAKI, C.G.H
On this 1st Graduation Ceremony ofThe Dedan Kimathi University of Technology, the Senate of the University, underthe powers conferred on it by Article 20 (3) (j) of the Dedan KimathiUniversity of Technology Charter has determined that His Excellency MwaiKibaki, the immediate former President of the Republic of Kenya, be awarded theDoctor of Humane Letters, (Litterarum humanorum doctor) HONORIS CAUSA. It is agreat honour to our University and to the current and future graduands that HisExcellency has accepted this Award, thereby becoming the first person toreceive a degree from Dedan Kimathi University of Technology.
Early Days
His Excellency Mwai Kibaki was bornin Othaya, Kenya in 1931. He began his early schooling at Gatuyaini, afterwhich he proceeded to Nyeri High School and finally to Mang'u High School wherehe studied between 1947 and 1950. He passed his "O" level examinationwith a best possible score of six points. From the influence of the veterans ofWorld War I and II in his village, he considered becoming a soldier while inhis final year in Mang'u.
However he decided against joiningthe military and, on completion of his high school education, he proceeded toMakerere University to pursue a Bachelor of Arts degree in Economics, Historyand Political Science. While at the University, he was the Chairman of theKenya Students Association and the Vice-Chairman of Makerere Students Guild. Hegraduated in 1955 with a First Class Honours Degree in Economics and took up anappointment as an Assistant Sales Manager for the Shell Company of East Africa,Uganda Division.
Shortly thereafter, he was offered ascholarship to study in a university of his choice in Britain. He chose to jointhe world-renown London School of Economics for a Bachelor of Science degree inPublic Finance, from where he graduated with a distinction. Soon after, he wentback to Makerere University in 1958 where he taught as an Assistant Lecturer inthe Department of Economics until 1960.
In December 1960, he left his stableand prestigious job at Makerere University to join the Kenya African NationalUnion (KANU) as the Executive Officer. In 1963 he was elected to Parliament. Inhis wide ranging political career, he served as a Cabinet Minister in theministries of Finance and Economic Planning, Health and Commerce and also as VicePresident from 1978 to 1988. He also served as Leader of the OfficialOpposition in Parliament between 1997 and 2002.
In December 2002, he was elected theThird President of the Republic of Kenya, a position he held until April 2013when he oversaw a peaceful transition of power to his successor, His ExcellencyUhuru Kenyatta.
He is married to Mrs. Lucy Muthoni Kibaki and together they have four childrenand six grandchildren
The public career of His Excellency Mwai Kibaki spans over fifty years. Duringthis time, he has dedicated his energies and talents to the transformation ofthe society and the improvement of the welfare of the lives of Kenyans. His isa life that demonstrates active commitment to the achievement of the very nobleideal of bringing about significant positive change to humankind. It is thetransformative effect of his leadership to the Kenyan society, the region andthe world at large that deserves recognition and honour.
Empowerment through Education
His Excellency's belief in empoweringthe society is well exemplified in his transformation of the education sectorin the Country during his term in office as President. Through his Government'spolicy on Free Primary Education, millions of children found a place inclassrooms across the country raising total enrolment from 6.1 million in 2002to 8.6 million by 2013. The policy on Free Day Secondary Education followedthereafter, after raising transition rates from basic education to high schoolfrom 47% to the current 74%. The higher education sector was expandedconsiderably resulting into the current 22 national public universities and 16private universities, all which saw enrolment at universities rise from 75,000in 2002 to the current 251,554 students.
This University is itself, a goodtestament to His Excellency Mwai Kibaki's commitment to expanding educationopportunities to all. The Institution is the culmination of his vision,together with other leaders, who, way back in the 1974 decided to establish atechnical institution that would impart important skills to young Kenyans toenable them find employment or set up businesses. These vision carriers hopedthat one day, the institution they were establishing would develop into a worldclass university of technology with impact on national, regional andinternational development. The granting of Charter and establishment of thisUniversity is an important leap towards the attainment of this noble goal.
In naming the University after the celebrated independence struggle hero, FieldMarshall Dedan Kimathi Wachiuri, His Excellency not only immortalized thisnational hero but also linked this institution with the spirit of theindependence struggle in which the Kenyan people sought to be masters of theirown destiny. It was also a poignant reminder to us all that the fruits ofliberty that we enjoy today are the result of the sacrifices made by those whocame before us and a call to remember the debt we owe future generationsthrough our actions today.
Transformation through Economic Development
Throughout his public career, HisExcellency Mwai Kibaki has endeavored to create national and institutionalframeworks which would fundamentally transform and improve the basic welfare ofthe people of Kenya. In his early years of service in the Cabinet, he is knownto have made significant efforts, together with the late Tom Mboya, in guidingthe formulation of the first blue print for the development of our country: TheSessional Paper No. 10 on African Socialism of 1965. This Paper contributedimmeasurably to attainment of a consensus on the economic development modeladopted by the young independent nation, at a critical time when there werecompeting ideologies on national development.
In his development endevours, His Excellency has placed great value to detailedplanning and formulation of properly thought out public policies with a viewthat they are strictly implemented so as to bring common good to our people.This meticulous planning and implementation was exemplified through the developmentof the Economic Recovery Strategy for Wealth and Employment Creation which theNARC Government, in 2003, formulated to guide its economic revival efforts.
Following the success of theEconomic Recovery Strategy for Wealth and Employment Creation, the Kenya Vision2030 was formulated. This is the blue-print to create a globally competitiveand prosperous nation with a high quality of life by 2030, and that aims totransform Kenya into a newly industrializing, middle-income country providing ahigh quality of life to all its citizens by 2030 in a clean and secureenvironment. Under his leadership the country saw the implementation ofthe first five years of the Vision 2030 blueprint. This includes the numerousinfrastructure development projects, and the constitutional, legal, judicial,institutional transformation envisaged and planned for under the economic,political and social pillars on which the Vision stands.
Change of the Constitutional andPolitical Environment
Under His Excellency's leadership ofthe Grand Coalition Government, Kenyans were able to realize a newconstitution, and participate in this process as individual citizens throughtheir contributions of ideas and by taking part and passing the constitution ina national referendum. Kenyans now have a constitution they are proud todefend, which is also considered to be one of the most progressive in theworld.
Following the promulgation of the Constitution on 27th August 2010, HisExcellency's Government oversaw the enactment of 127 pieces of legislation togive effect to the Constitution. Hallmarks of this new constitutionaldispensation include a more accountable governance system, an independentjudiciary, which has been empowered to provide better services to the people,and devolution of power to the Counties that gives Kenyans greater say inpublic affairs.
Early this year, His Excellency'sGovernment presided over a historic peaceful General Election and a smoothtransition of power to His Excellency Uhuru Kenyatta, Kenya's fourth President.
In addition to the significant progress achieved in Kenya, His Excellency'sGovernment played a pivotal role in both the political and economic developmentof the region. His Excellency has been a champion of the East African Communityand its economic integration. Moreover, His Excellency's Government madeimmense contributions to peace and stability initiatives in the region.
In this regard, the case of Somaliastands out. Kenya has been involved in painstaking peace building efforts inthat country and recently sent her military there to contribute to therestoration of restore peace and stability. This single decision radicallychanged the course of events in Somalia. The people of Somalia now experiencepeace they have not known for over two decades. Furthermore a broadly acceptedand promising political and governing system has emerged.
His Excellency was also passionate about the resolution of the conflict inSudan. These peace efforts culminated in the signing of the Comprehensive PeaceAgreement and in the birth of the world's youngest nation, South Sudan. HisExcellency's Government played a critical role throughout this processincluding supporting in many ways the creation of key institutions in SouthSudan following their independence.
We are proud to be associated withthis great and important leader whose ability to do that which is right andjust to the people is well expounded in his performance as a publicservant. The award of this HONORARY DOCTORATE DEGREE IN HUMANE LETTERS (Litterarumhumanorum doctor) Honoris Causa, is to be awarded in recognition of hiscontributions to this University, and to the people of Kenya, East Africa andthe continent of Africa, now and in posterity.
It is, therefore, with greatpleasure, Mr. Chancellor that I present Mwai Kibaki to receive the degree ofDoctor in humane letters (litterarum humanorum doctor) Honoris Causa.
Ladies and Gentlemen, His ExcellencyMwai Kibaki